The Compton Pledge provides unconditional, recurring cash to residents of Compton, California. 800 households receive payments for 24 months, making the Compton Pledge one of the largest city-based guaranteed income initiatives in the country. This initiative is led by Office of Mayor Aja Brown, the Compton Community Development Corporation, and the Fund for Guaranteed Income.
Enrollment in the Compton Pledge occurred from January through March of 2021 for eligible Compton residents. Payment frequency and amount for each participants was set based on household size and other factors. Currently, 397 participants receive bimonthly payments, 389 participants receive quarterly payments, and 14 participants receive lump sum payments. Participants receive an average of $450/month.
The pilot was designed and implemented to be representative of the City of Compton and includes groups often excluded from government services.
PARTICIPANTS

are the heart of the Compton Pledge
participating in the Compton Pledge
including the children of recipients
MODERNIZING

cash transfers for scale
We offer a variety of payment methods to lower barriers to accessing funds and provide an option that is convenient for every participant. Payment methods can be changed at any time.
successfully sent to participants via automated disbursement
including direct deposit, Venmo, PayPal, and prepaid card
for our customer service to resolve participant queries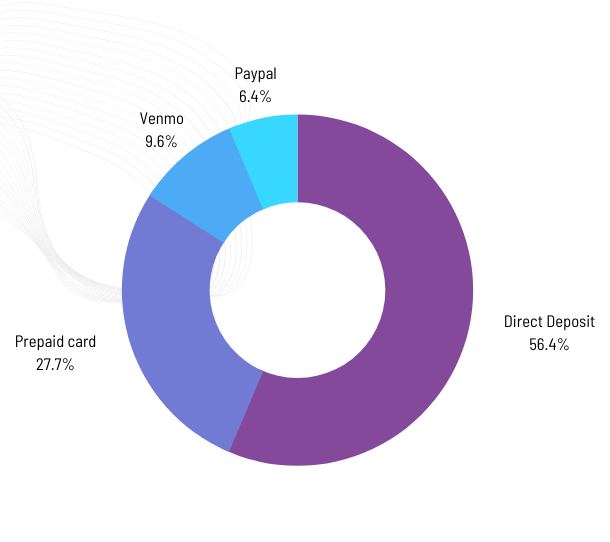 disbursed this past payday
disbursed on our next payment date
ADDRESSING

the racial wealth gap
Our participants by the numbers
Black or African American
Participants in the Compton Pledge include a number of residents who are unbanked, formerly incarcerated, or undocumented proportionate to the city population as a whole. These groups are historically excluded from social support systems, and the Compton Pledge was intentionally designed to be inclusive and accessible for this reason.
Before the Covid-19 Pandemic, I had three jobs. Since then, I have now lost two of those jobs, and my last job ends within the next month or so. The guaranteed income came right on time.
Receiving my guaranteed income payments takes off a lot of stress because I'm waiting on unemployment, and this money helped me get through. I feel so lucky— like I've won the lottery.
At times, COVID has made things hard, but my family stays strong and positive in every situation. Thanks to the Compton Pledge I don't have to worry as much. It's nice to know that I have a life line in the event I start to fall behind on my bills, because I have to pay for groceries. I am able to be more independent.
COMPTON LOVE LETTERS PROJECT
Compton Pledge partnered with Unearth & Empower Communities during their annual Summer Art Camp for kids ages 3 to 6th grade. Each attendee and counselor of the Summer Art Camp had the opportunity to say Why They Love Compton on custom Love Letters provided by the Compton Pledge team. The pride of these participants shined a light on how powerful, special and unique the community truly is.
This dashboard was co-created by the Compton Pledge staff, Compton Pledge Community Advisory Council, participants, and Compton residents. The Compton Pledge is philanthropically funded, and no taxpayer dollars are being used to support the initiative. Residents were selected through an independent lottery process.